OH Deck Psychology Reading
The Oh Deck – Psychological Cards – Get to the root of all your issues with this reading!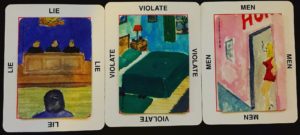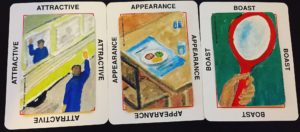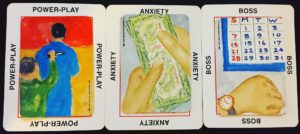 Out of all the years that I have been doing readings, the "OH DECK" is the ultimate deck of cards I have ever come across, they are a psychological tool not tarot cards, but can fall in the line of them. But it does take a psychic and you to interpret them together during your 2 hour session. How did I get them? My mom was also a professional psychic and she bought them for me 30 years ago – everyone should have an "OH DECK" reading in their lifetime………..maybe more than one as your life progresses.
Just last week, I did a session with a client that has been with me for 30 years and she said oh my God you should do every reading with this deck, I got more answers out of this reading than any therapy session. Slight warning you will tend to cry during these sessions, but that means it is working to clear off all the bad energy and patterns that have been created in your life and keep you stuck in them. She asked one question, why do I keep attracting the wrong men? Which led to about 6 other HUGE questions and life changing thoughts.
The way these cards work: I shuffle them thinking of what you ask, there are two decks, one large card that has words on them and then one small card that you place on top of the words that are hand drawn art. Some examples questions and answers are below. We will not limit time during these sessions some can take up to 3 hours that is why the price is a little higher than other readings.
The purpose of this deck is to get to the root of your BIG issues and PATTERNS you want to change, you will be talking these thru with me – we work together to get to the bottom of your question and how to solve and change your life. The woman above that asked why do I attract all the wrong men, it came up that her cousin was molesting her at 7 years old and that is how she got agrophobic and married a few really bad men, she was in the Navy so was not always just inside her home, but after the bad marriages just didn't want to engage anymore with people and places.
The reason this reading was at a perfect time she just had to sell her home and moving is HUGE for someone who does not like to leave their home, by the time we were done she had all her answers, she realized that she was not truly as sick as she once was and can start living again and looking for a new man in her life in a healthier way. Although she did say, now I am going to go cry for awhile and then do the writing in my journal that you suggested.
There are many questions that have come up with this deck, here are a few examples but they are limitless:
How do I lose weight & why am I holding on to it?
Why do my parents, siblings & myself – just not like each other
Why do I have anxiety? Why am I so insecure?
Why do people at work constantly engage in power play at work, why am I the target
What is keeping me from falling in real love? That is honest, affectionate, loving and lasting?
Remember these are just a few questions it is limitless and your time will be to during the session.
"Hello Tonya!
I just wanted to bring you up to date and let you know that everything you predicted came about!!! Your monthly healing session & OH deck reading was very successful. Wow – you certainly "cleared the field"! Gone are the dark entities that plagued my son since he was a teenager. He is now 32 so he's been carrying this dark load for quite some time!
Since your intervention, the past few weeks have been filled with good fortune instead of bad. He has come in contact and has been surrounded by former Marines,(angels!!) Some he has served with others not. Each one has given him vital information and advice imperative to his overall well-being. I find this fascinating, because Marines only trust other Marines. If anyone else, including me, gave him the same information or advice, he'd discount it.
Just as you said, he did get the house, and…before he even got it, he met the seller. The seller took an instant liking to him and said, "You know, I really like you, I want to introduce you to my daughter, she lives across the street"!! So the house even comes with a girl…Ha-Ha!!
Tonya, you've given my son back to me! You've always come through for me in the past, however, this time you really "hit it out of the park"! YOU'RE A WONDER AND I CAN'T THANK YOU ENOUGH!!!
Warmest regards,
Nannette"